This may look long, but it is actually very easy, and fast when you got the hang of it. It is a balanced meal, and a great winter warmer. Just cook one "pot" and it could last you days!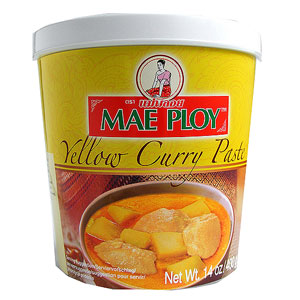 Ingredients:

1-2 tbsp vege oil

50-100gm of yellow Thai curry paste-try to get from Asian grocery stalls (much cheaper!) or sites like this. I use about 3 heaped tablespoons of the paste for 1 pot of curry, about 800 gm of chicken. Put more if you could take the "hot taste". A tub like this will allow you to cook at least 5-6 times

800gm of chicken (put only about 1/2 (500gm) if you don't like them too soft)
4 medium sized onions-cut into 8

1/2 cup of coconut cream, or 1 cup of semi-skimmed milk or 1/2 cup skimmed milk with 2 tablespoon of natural yogurt

4 potatoes (add more if you like, but increase the curry paste slightly if you do)-cubed
4-5 tomatoes
Other "soft" vege: eg, okra, aubergine
(optional)-fish sauce, turmeric powder

Cooking methods:
-If you try to get more turmeric into your system, add 1-2 tsp of the powder, and blend into the paste.
1) heat some oil in the pot. Add in the paste when oil is hot. Use lowest heat.
2) fry until fragrant -2-3 minutes
3) Add chicken-"stir fry"1-2 minites
4) Add onion and potatoes- stir to prevent pot burning, until onion slightly softened. Add some coconut cream and water to prevent burning
5) add water until enough to cover all the ingredients
6) Cook with low heat for about 20 minutes, then add "soft" vegetables. Cook for another 10-15 minutes, until tomatoes are soft, and "blended" into curry.
Add some fish sauce to taste.
Tip: If you find it too hot, add 1-2 tablespoon of sugar.
Serve with rice or pasta or bread. Baguette is fantastic with this!
To prevent the curry turning stale, boil it again before you sleep, and boil it again in the morning. Basically, the curry could keep for up to 3 days if you do this in winter. You can add fresh vege, [try those suggested "soft vege" as they are quick to cook] and meat or even frozen fish fillet everyday into the broth!!!
It is great to go with bread in the morning. I eat it again for lunch and dinner. Usually for the last round , I will add some oriental noodles, and have curry noodles. Great winter warmer!!
Try it out! And let me know when you improvise this!
If you find this cheat's curry still too difficult, try this
sardine curry recipe
. It takes less than 5 minutes!